Functional Safety & Cybersecurity Training Package - early bird rates now available
Liftinstituut will hold live back-to-back trainings on Functional Safety and Cybersecurity dedicated to the lift and escalator industry in Amsterdam from June 5 to 9, 2023.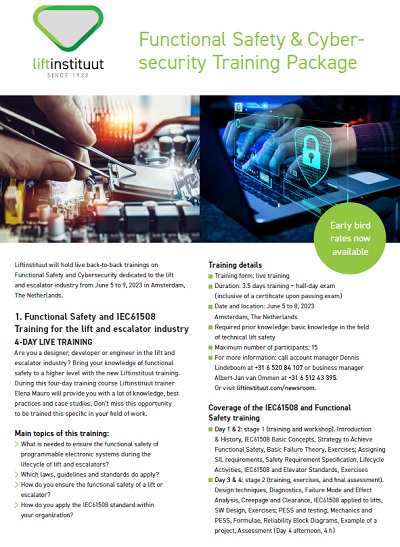 Be fully informed about these important topics in one week. Register before May 1, 2023 and benefit from our attractive early bird rates. It is an open enrollment training, open to all interested parties from the lift and escalator industry. Do you prefer an in-house training? Please contact us.
Interested in this training package?
> DOWNLOAD THE FLYER ON THE JUNE TRAINING PACKAGE FOR INFORMATION AND RATES
For more information and registration or a quote for an in-house training please call account manager Dennis Lindeboom at +31 6 520 84 107 or business manager Albert-Jan van Ommen at +31 6 512 43 395.

Main topics of the training Functional Safety and IEC61508 (4-day live training)
What is needed to ensure the functional safety of programmable electronic systems
during the lifecycle of lift and escalators?
Which laws, guidelines and standards do apply?
How do you ensure the functional safety of a lift or escalator?
How do you apply the IEC61508 standard within your organization?
Main topics of the training Cybersecurity (1-day live training)
What are the risks of IoT in lifts, escalators and safety components?
Which standards and laws do apply concerning cybersecurity?
How do you work towards a cybersecure lift, escalator or safety component?
What are the best practices in lifts and escalators?